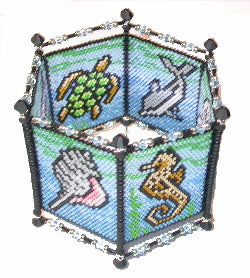 Ocean Luminary candle cup
Bigger than a votive at 3" high and 3-1/2" wide this candle cup is called a luminary.
Six different Ocean Theme panels are peyote stitched using beautifully translucent Delica beads. Dolphin, Sea Turtle, Sand Piper, Conch Shell Seahorse, and Sand dollar.
Complete step by step instructions are included. Please download the no-eyepin assembly if you are wire-work reluctant.