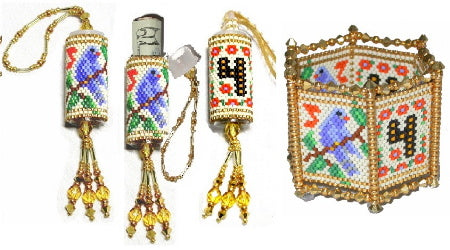 Four Calling Birds #4 in the 12 days Votive and Bead Tube Series
Four Calling Birds Bead Tube ornament and Votive cup pattern. Both are included in the printed pattern. This three page pattern includes peyote row by row "word" chart, full color graph and continues the 12 days adventure for 2023.
Please download and print the free partridge pattern in the series for full construction directions.
A battery votive is used to illuminate the votive, for safety DO NOT BURN A REAL CANDLE IN THE VOTIVE CUP