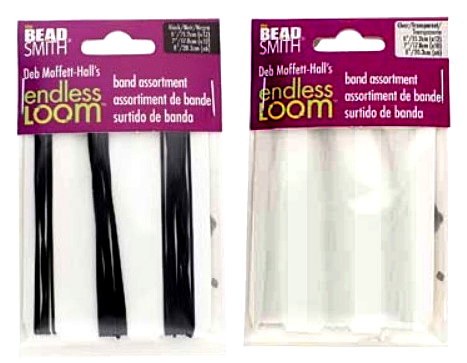 Assortment Endless Loom Bracelet Bands / Elastic Bracelet Loops
Regular price $14.50 $10.95 Sale
All three sizes in one package!!
Designed for use with the Endless Loom these elastic bands are specially sized for bracelets. The Black makes a nice bold edge to your bead work, Clear blends in. Smooth & soft, these bands are very comfortable to wear.  
They come in 6", 7", and 8" Black or Clear For half sizes please use the next smaller size, for example for a 7.5" bracelet please use size 7" bands. Latex Free
All three sizes in one package
size 6" / 12 bands
size 7" / 10 bands
size 8" /  6 bands
Note: size 8" bands can also be used to create 2 & 5/8" ornaments!
Very sorry, Unable to ship to UK as they seem to go astray