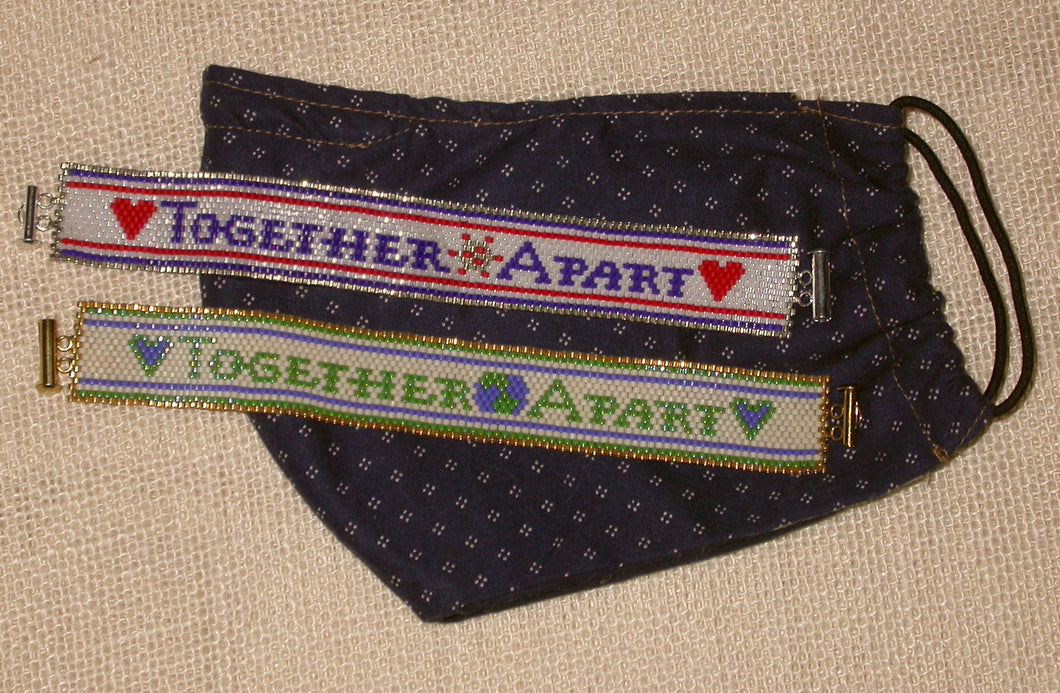 2020 COVID-19 Together/Apart Peyote Bracelet Designs
Please read description before making your selections, thank you! 
Lucy Bacon of Lucy's Bead Boutique Brick NJ and I collaborated to create two meaningful bracelet patterns to mark these challenging times. They are dedicated to the memory of Lucy's brother U.S. Air Force Veteran Anthony Orabona, lost to COVID-19 April 2020.   
The first is in traditional Red, White, & Blue with silver trim and features the COVID-19 virus symbol in the center of the band. Red hearts on either side represent our love of the United States of America. We stand together as a nation, while staying apart to do our part.  
The second is in Pale Yellow, Green, & Blue with gold trim and features the globe in the center of the band. Yellow represents Strength, Green represents Hope, and Blue represents Healing.  The entire world is affected by this pandemic, Blue & Green hearts represent hope and healing for all.     
Lucy has made up 2 different kits that include the pattern, clasp, & size 11 Delica beads to make one bracelet up to size 8.5". Please visit her website to order kits: www.lucysbeadboutique.com 
Each pattern includes instructions, a color graph, and a word chart. Even Count Peyote with one Brick Stitched edge row. 
*One bracelet design per pattern or kit* 
If you only want the pattern (no kit) they are available here from me and will be printed and mailed - free postage in USA. Please make your design selection above. One bracelet design per pattern or order both for a discounted price.
Remember do not order a pattern if you are going to order a kit or kits from Lucy - her kits will already include the appropriate pattern. 
Be Safe, Stay Well.