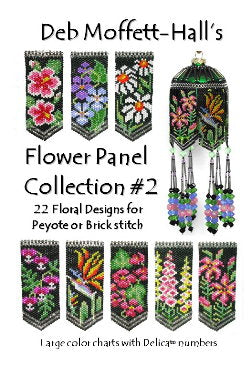 Book: Flower Panel Collection #2
Regular price $27.99 Sale
22 Peyote or Brick stitch flower panel designs featuring the following: 

4 o'clock, amaryllis, Asiatic Lily, begonia, bird of paradise, bleeding hearts, blue poppy, clematis, daisy, foxglove, grape hyacinth, hibiscus, iris, lady slipper, lily of the valley, orchids, peace roses, pink dogwood, roses, tiger lily, violets, water lily, wisteria. 
Color charts with the Delica color numbers and bead quantities. Instructions included to make an ornament from the beaded panels.   
Free Priority Shipping to USA only 
Shipping books in USA only.