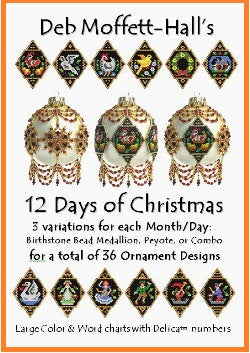 Book: 12 Days of Christmas 2009 Ornament Series
Regular price $59.99 $49.99 Sale
Peyote images evoke the classic 12 days of Christmas song. From the partridge in a pear tree all the way to 12 drummers drumming OR you can choose to stitch simple beaded medallions and no peyote.  36 ornament variations in all are possible with this series. Your choice to  make  6 peyote panels around the ornament or alternate 3 peyote and 3 medallion or stitch 6 medallion count & string easy swag ornament designs in beautiful birthstone inspired colors.  
 79 pages of step by step photos and full instructions guide you every step of the way. Colors are only a suggestion, each ornament would look lovely in a variety of colors. Full color charts and Delica bead colors /bead counts are included for the peyote panels.  If you do 6 different peyote panels on two balls you can feature all twelve images.
  As a special gift you could make the medallion ornaments in birthstone color to celebrate the birth of a child. Stitch in the colors of the bridal party to celebrate a wedding - be sure to write the date on the bottom of the ball before gifting.
  Free priority shipping in USA only 
Shipping books in USA only.