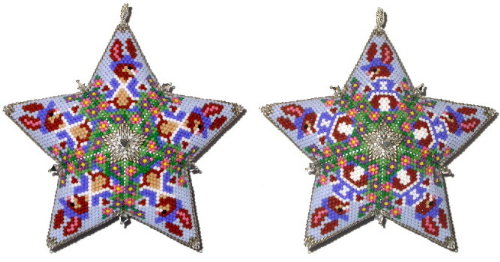 2020 5 C. April Baseball Bunny Birthstone Star
4" Peyote star featuring an adorable two-sided Baseball Bunny design. Ready for Spring training Bunny front on one side and fuzzy tail on the other. April Diamond Birthstone accents add sparkle. 
This would be so cute as a new baby gift - stitch the uniform dark blue as shown, pink, or gender neutral yellow or orange. Change the birthstone accents to the baby's own.  
This star pattern ONLY INCLUDES Delica color numbers and quantities, color graph, and ABC word chart. 
Please click "Mini Star" to download and print the FREE how to stitch a star pdf if you would like general step-by-step star stitching and assembly instructions