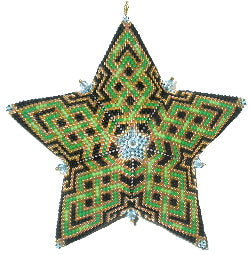 2020 4 C. March Celtic Knot Birthstone Star
4" Peyote star featuring an intricate Celtic Knot design. March Aqua Marine Birthstone accents add sparkle. 
This star pattern ONLY INCLUDES Delica color numbers and quantities, color graph, and ABC word chart. 
Please click "Mini Star" to download and print the FREE how to stitch a star pdf if you would like general step-by-step star stitching and assembly instructions 
if you have a pattern purchased before 2/21/20:                                Bead Count Correction: "A" should read 13 grams not 7.5 - so sorry for the error!!