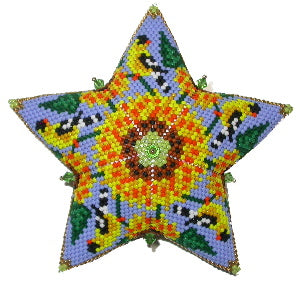 2020 9 C August Birthstone Star
4" Peyote star featuring a Gold finch feasting on Sunflower seeds. August birthstone Peridot accents at star center and points, optional bicones add sparkle. 
This star pattern only includes the Photo, Delica color numbers and quantities, color graph, and ABC word chart.
Please click "Mini Star" in this section to download and print a free how to stitch a star pdf for general step-by-step star stitching and assembly instructions.