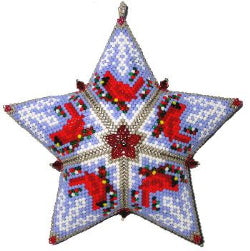 2020 2 C. January Cardinal Birthstone Star
4" Peyote star featuring a brilliant red cardinal on a snowy day with Garnet Birthstone accents.
This star pattern ONLY INCLUDES Delica color numbers and amounts, color graph and ABC word chart.
Please click download and print the FREE how to stitch a star pdf if you would like general step-by-step star stitching and assembly instructions.