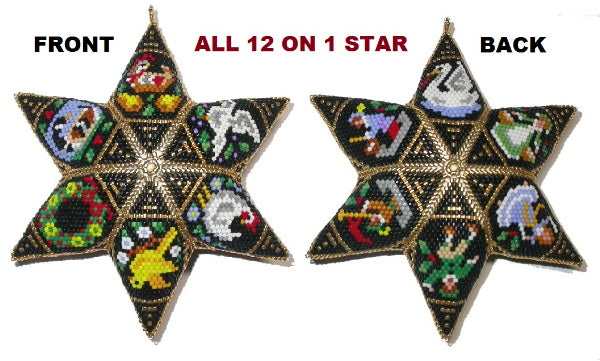 All 12 on 1 Six Point Star: Twelve Days Of Christmas Peyote Star
Regular price $18.95 Sale
The Grand Finale of the 12 days of Christmas 3-D peyote stars! 
Mary A. Johnson of TN cleverly worked out the ABC stitching charts for this spectacular Six Point star that features all 12 of Deb Moffett-Hall's peyote designs on one six point star. 
Two different images appear on each point: 1- 6 on the front and 7-12 on the back. This means that all four sides are different on all six of the warped squares!    It boggles the mind (well, it boggled my mind, Mary just smiled) but it is very fun to stitch. 
This HUGE pattern packet includes Delica color numbers and quantities, Deb's detailed step-by-step photo illustrated instructions, hints and tips for construction, and all of Mary's ABC stitching charts for the six different warped squares used to assemble the 4" six point star.  NOTE: no picture/color graphs included in this packet. 
Free printing and free shipping in USA, Overseas and Canada $4 postage will be added