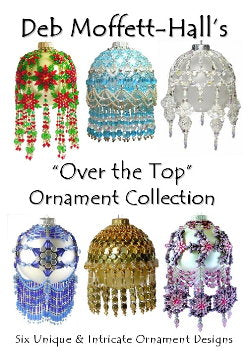 Book: Over The Top Ornament collection
Regular price $32.99 Sale
Six unique and intricate ornament designs that require a little bit more time but are oh-so worth it!!
Included are: Poinsettia Blooms, Aqua Marine Dreams, Luscious Lilacs, Golden Coins, Starry Night, & Aurora Icicles. 
 Beads used in the designs:  duos, fire polish, bugles, honey comb, seed beads in a variety of sizes, rounds, bicones, daggers, etc.  41 pages of photos and written instructions guide you every step of the way. Intricate does not mean they are hard, just a few more steps to follow.  
Free Priority Shipping in USA
Shipping books in USA only.