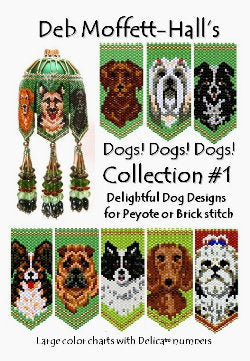 Book: Dogs, Dogs, Dogs!
Regular price $27.99 Sale
18 Delightful Dog Designs for Peyote or Brick stitch. 
Chihuahua, border collie, English bulldog, chocolate lab, cocker spaniel, corgi, dalmatian, dark or light face Jack russell, Lhasa apso, poodle, pekingese, schipperke, pomeranian, shar pei, papillion, dachshund, German shepherd, black lab golden retriever.  
Large color charts include the Delica color numbers and bead counts. Step by step instructions included for peyote stitch and for making an ornament from the panels. 26 pages, plastic comb bound to lie flat while in use.  
Free Priority shipping in USA
Shipping books in USA only.